3 to 4 lbs pork shoulder, trimmed
8 oz Jessi's Flaming Fruit Sauce Mango-Pineapple
1 quart Chicken Stock (or ham stock)
Trim most of the fat and silver skin off the pork shoulder.  Add pork, Jessi's Flaming Fruit Sauce and stock to crockpot and cook 8 to 10 hours.  
Pull the pork out and let rest until cool enough to handle.  Pull apart and discard any remaining fat.  Add a few Tbs of additional Mango-Pineapple sauce and use in any of the following way, or create your own!!
Pulled Pork sandwich with slaw
Pulled Pork stuffed baked potatoes
Pulled Pork over egg noodles or steamed and herbed potatoes
Read more →
---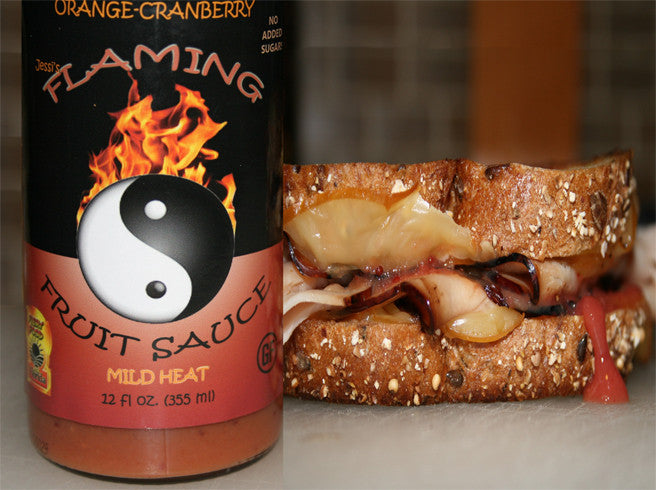 4 slices Sourdough or hearty Rye Bread
Gouda Cheese, sliced
½ lb sliced Turkey Breast
Jessi's Flaming Fruit Sauce Orange-Cranberry
Butter
Butter the outside of the sandwich bread.  Smother the inside of both slices with the Orange-Cranberry Sauce.  Layer cheese over the sauce and then ¼ lb of sliced turkey breast.  Assemble sandwich and grill in cast iron or non-stick pan at low-medium heat until bread is just lightly golden and cheese is melty.
Read more →
---
---