This is the perfect appetizer or summer time refreshing snack.
Ingredients
½ lb Scallops or Shrimp (peeled and deveined), cut into ½ inch pieces
2 Tbs Jessi's Flaming Fruit Sauce Original 'Everything' Sauce (start with 1 Tbs and add more heat, to taste)
½ Cup Sweet or Red Onion, diced
½ Cup Jalapeno, diced
1 Cup Corn, cut off the cob
½ Cup English cucumber, diced
2 large or 3 small Limes, zested and juiced
½ Cup Red wine vinegar
½ Cup Olive Oil
¼ tsp Cumin
½ tsp sea salt
¼ tsp white pepper
Combine all ingredients in a bowl.  Cover and chill for at least 1 hour. Serve with tortilla chips. Enjoy!!!
Read more →
---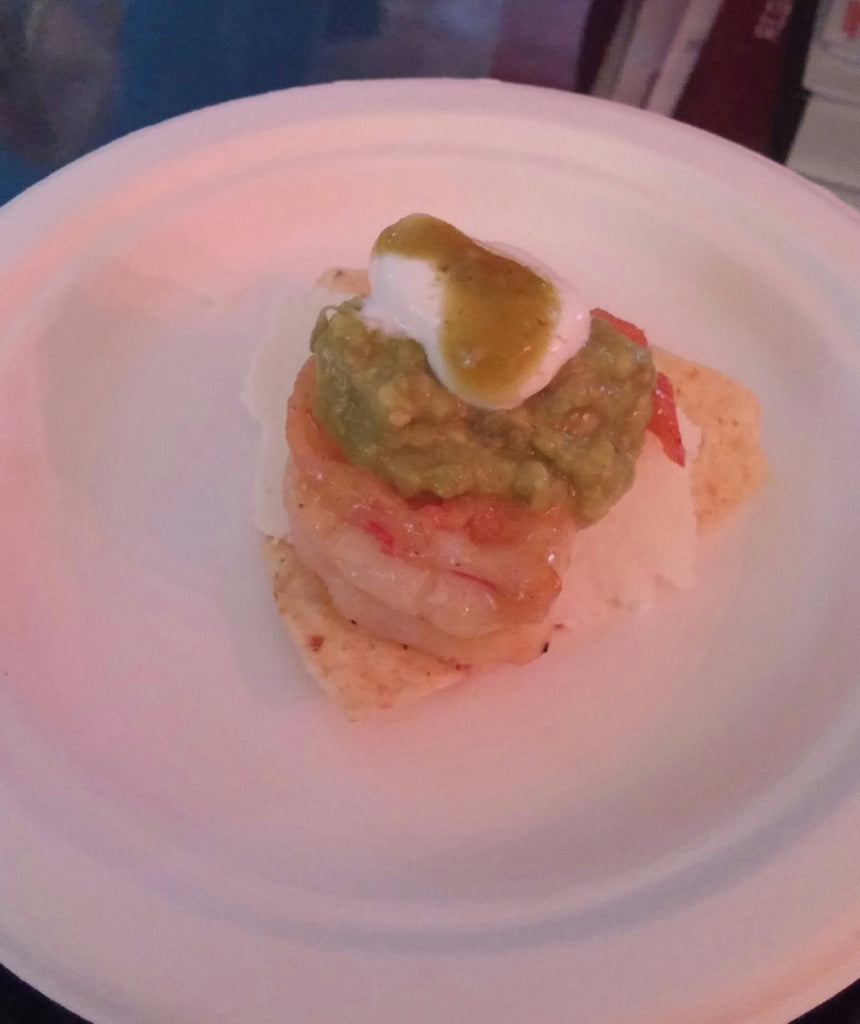 2 lbs Shrimp, peeled and de-veined
1 ¼ cup Jessi's Flaming Fruit Sauce Mango-Pineapple Sauce
Tortilla chips
2 avocados
Shredded lettuce
Cotija cheese, sliced (or queso blanco)
Marinate shrimp in 1 cup of Mango-Pineapple Sauce for 1 to 3 hours.  Then grill or saute` just until no longer translucent.  Shrimp overcook very quickly, they only need a minute or two on each side.
Mash avocado with ¼ cup of Mango-Pineapple Sauce, add Salt and Pepper to taste.
Layer cheese, shrimp, guacamole and shredded lettuce on tortilla shell.  Add sour cream and salsa verde if desired.
This is an excellent (and quick/easy to prepare) appetizer to set out for parties!
Read more →
---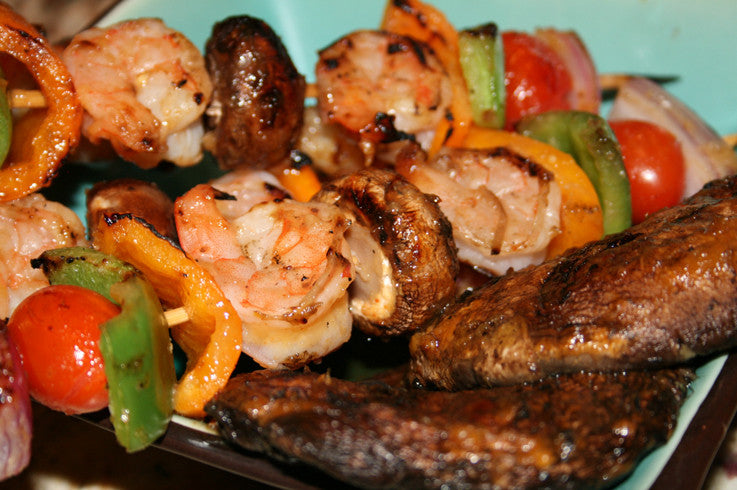 2 Lbs Shrimp, peeled & de-veined
1 small onion, large chop
1 pint button mushrooms
1 bell pepper, large chop
1 pint cherry tomatoes
4 Portabello mushroom caps, cleaned
1 Cup Jessi's Flaming Fruit Mango-Pineapple, Original or Apricot Sauce
Soak wooden skewers in water for 1/2 hour. Put together skewers, alternating vegetables and shrimp. Glaze with Jessi's Flaming Fruit Sauce. Grill 3 to 5 minutes on each side, until shrimp is no longer translucent. Can also use chicken cut into 1 inch cubes in place of shrimp.
Brush mushrooms with Sauce and grill, 3 to 4 minutes on each side.  Turn 90 degrees to get nice cross hatch marks on them before you flip them.
Read more →
---
---