This is really easy to make, absolutely delicious, and very versatile.  We usually make a double or triple batch when we make it, because it keeps in the fridge and is tasty as a snack, or a side dish, or a garnish.
Ingredients:
1 16oz can Black Beans
1 16oz can (or frozen) corn kernels
1 Cup feta crumbles
½ Cup diced Jalapeno
Sauce:
1/3 Cup vegetable oil
1/3 Cup apple cider vinegar
1/3 Cup raw sugar
½ tsp sea salt
½ tsp white pepper
2 Tbs Jessi's Flaming Fruit Sauce – Original 'Everything' Sauce, or Ghost Pepper Sauce
Preparation:
Rinse and drain black beans and corn.  In a large bowl, combine beans, corn, jalapenos and feta cheese.  In a smaller bowl, add all ingredients for sauce.  Pour over salsa and toss to coat thoroughly.
Enjoy with chips, or over chicken or shrimp, or use as a topping for fish tacos.
Read more →
---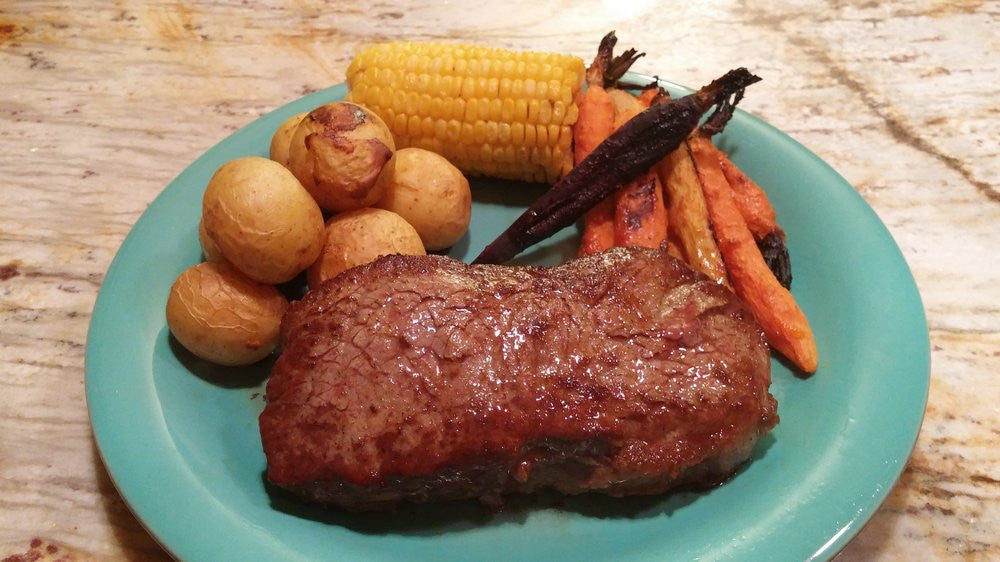 2 rib eye or NY strip steaks
1 lb baby carrots
Finger or small baking potatoes
Jessi's Flaming Fruit Sauce Original 'Everything' Sauce
Jessi's Flaming Fruit Sauce Apricot
(I also made some corn)
Marinate the steaks overnight (or at least 5 or 6 hours) in Jessi's Flaming Fruit Sauce Original.  I use a quart bag so that it only takes a few tablespoons of sauce for the marinade.  Then take them out and grill them to your preferred temperature.  Well done is a bit of a crime, but it's your steak.   ;-)  Be sure to let them rest for 10 minutes before you serve them.
Coat carrots in Jessi's Flaming Fruit Sauce Apricot.  Place carrots and potatoes in a large baking dish and cook at 375 for approximately 40 minutes, until potatoes are cooked and carrots are tender.  I also like to broil the carrots at the end for  just a couple of minutes.  Plate, serve and enjoy!
Read more →
---
---