Recipes / Jessi's Flaming Fruit Sauce - Ghost Pepper Extra Hot - 5 oz size
This amazing chili recipe was 'inspired by' Alex Guarnaschelli's cookbook, Cook With Me (a wonderful Christmas present this year).  Of course, me being me, I've changed it up a bit.  My wife doesn't like bell peppers or chunky tomatoes and I like more than 1 kind of meat.  So that all got switched up. And, Of Course I had to add some Flaming Fruit Sauce and Cayenne.  It just needed it!    This recipe makes at least a dozen servings, so feel free to cut it in half if you like.  I sent some to neighbors and friends and froze some. Once upon a non-Covid time it would have been a big dinner party. But, I love having yumminess in the freezer!!
Ingredients:
2 lbs ground chuck (80% lean)
1 lb pork shoulder, cut into ½" pieces
1 lb beef stew meat (we used sirloin tips) cut into ½" pieces
2 large sweet onions (1 ½ chopped, for chili, ½ minced, for topping)
2 pablano peppers, chopped (seeded)
3 jalapenos, chopped (I seeded, feel free to leave them if you like)
5 Tbs vegetable oil
16 cloves garlic, minced
6 Tbs tomato paste
4 Bay leaves
5 Tbs chili powder
2 tsp cayenne pepper powder
1 tsp ground coriander
¼ Cup Jessi's Flaming Fruit Sauce – Ghost Pepper Extra Hot
2 tsp ground cumin
4 Tbs apple cider vinegar
2 24 oz containers of strained tomatoes
5 15oz cans of black beans, drained (I used a #10 tin)
Sea salt and white pepper, to season
Garnish:
Shredded sharp cheddar or Monterey Jack cheese
Lime to squeeze
Sliced avocado
Minced onion (from above)
Sour Cream
Sliced fresh or pickled jalapenos
Tortilla chips
Meat:   I do this as a one pot meal, so I do all my prep in a large, heavy bottom soup pot.  You can do all the browning in a large saute pan if you like.  In order to avoid boiling/steaming the meat, you'll have to do it in 1lb batches over medium high heat.  Brown the ground beef and move to a sheet pan to cool, then add 1 Tbs of oil and add the pork to brown and remove. Repeat with the steak.  Season each layer with sea salt and white pepper.  At this point, you'll start to notice brown bits sticking to the bottom of the pot.  This is GOOD.  This is FLAVOR.
Vegetables: To the same pan, add 3 Tbs vegetable oil, onions, peppers, garlic, sea salt and white pepper (to season). Saute 5 to 8 minutes, stirring constantly, until onions start to brown.  Then add tomato paste, cayenne, coriander, cumin, chili flakes, chili powder, and cook another 2 to 3 minutes.
Chili: This is where I really differ from the amazing Alex Guarnaschelli – she uses a slow cooker, feel free to do that.  I make it as a one pot meal. Add the bay leaf, tomatoes, vinegar and 4 cups of water and stir to deglaze the fond (brown bits) on the bottom of the pot. Add meat back to pot. Cover and set to a low heat.  Cook for 4 hours, stirring occasionally.  Add drained black beans and cook another 2 hours, uncovered.
Serve up however you like, over rice, potatoes, as chili mac, etc. Yesterday I had someone tell me in the Midwest they eat it with peanut butter sandwiches.  Don't ask me.  I love it with lime, onion, avocado, cheese, jalapenos, and tortilla chips.
Let me know if you like it!!!
Read more →
---
1 whole chicken
4 Tbs Jessi's Flaming Fruit Sauce, in any flavor
Large chopped vegetables (I usually use onions, carrots, celery, parsnips, mushrooms)
1 Cup chicken stock
Salt and white pepper, to taste
Preheat oven to 350 degrees.  Layer chopped vegetables, pour in chicken stock and season with salt and pepper.  Place whole chicken on top.  For more crispy skin, you can buy a chicken that has been quartered (or quarter it yourself) and place it over the veggies, skin side up.   Bake until the chicken reaches an internal temp of at least 165 degrees, approximately 40 minutes if quartered, 1 hour 15 minutes if a whole chicken (depends on the size of the chicken). 
Once internal temp reaches 165 degrees, turn heat up to 450 for approximately 5 minutes, just to crisp the skin (skip this step if skin is already crispy enough).  Take out and glaze with any flavor of Jessi's Flaming Fruit Sauce.  Place under broiler for approximately 2 or 3 minutes, just until the sauce begins to brown.
Serve with potatoes or rice.  In this picture, I used grilled zucchini and made coconut rice with chili dusted mango. 
Read more →
---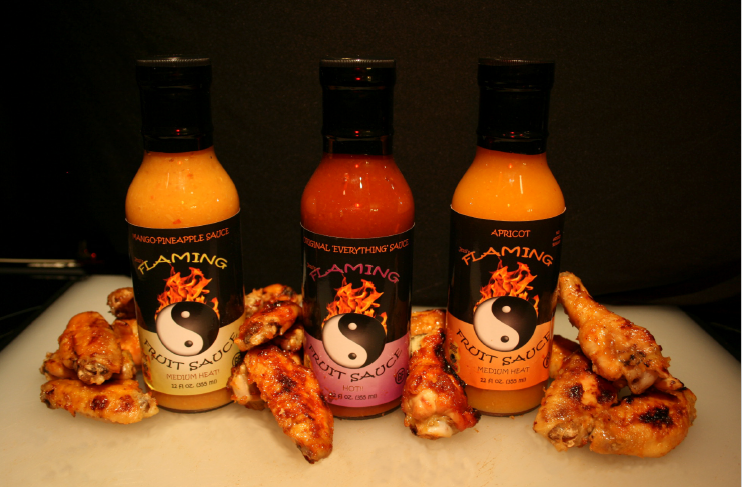 2 to 3 lbs of Chicken Wings
Jessi's Flaming Fruit Sauce in Original, Mango-Pineapple, or Apricot
Feel free to fry or grill your wings.  I bake them off at 375 for 30 – 45 minutes (depending on whether or not they start frozen).  Temp them to 165 internal to be sure they are cooked. 
My trick is that I bake them skin side down on either a silicone mat or non-stick foil.  After they are fully cooked (but not yet crisp), I drain off the liquid and flip them skin side up.  Now just broil them for about 4 or 5 minutes, until they are crispy. 
Glaze them with your favorite flavor of Jessi's Flaming Fruit Sauce and put them back in the broiler for about 3 minutes, until they begin to brown.  
I prefer to serve them with a wasabi sour cream dip.  
Wasabi Sour Cream Dip
1 Pint Sour Cream
1 - 2 Tbs Wasabi powder or paste
1 Tbs Tamari or Soy Sauce
1 tsp Ginger Juice (optional)
1 - 2 Tbs Garlic Teryaki Sauce
1/2 tsp white pepper
Combine all ingredients in a small bowl and let sit at least an hour in the refrigerator.  Feel free to add more wasabi or Teryaki, to taste.  This is great for cooling off from the wings, or for dipping carrots and celery.  Enjoy!!!
Read more →
---
---