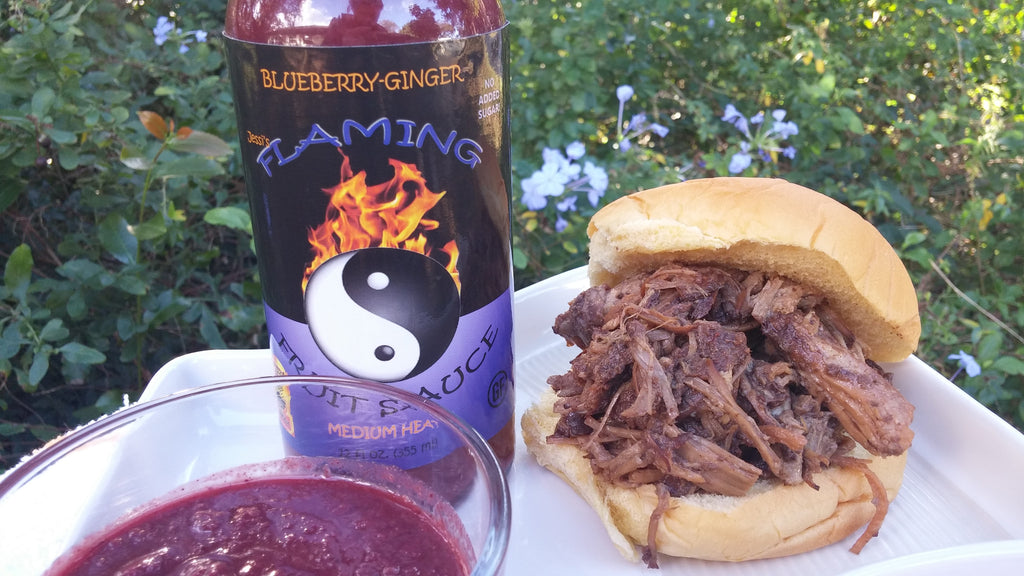 3 – 4 lbs of pork shoulder (or boneless leg of lamb, or pot roast)
2 C carrots, large dice
2 – 4 parsnips, large dice
1 pint mushrooms, sliced
1 medium onion, large dice
1 bottle cabernet sauvignon
½ - 1 C Jessi's Flaming Fruit Sauce Blueberry-Ginger or Original 'Everything' Sauce
1 quart chicken or ham stock
1 Tbs Thyme, fresh if possible
1-2 tsp white pepper
Sea salt, to taste
There are two ways to make this dish.  If you are strapped for time, just throw everything into a large crock pot and set to cook for 8 or 10 hours.  Use the stock just to ensure there is enough liquid to cover the pork, lamb or beef and all the vegetables.  These measurements are for a large crockpot.
If you have the time in the morning, sear the meat off in a large cast iron pan (or one that can take a high heat sear).  Use a little oil/butter mix in the pan and sear the meat until it starts to form a brown crust.  Be sure to season with S & P first.  Pour the wine and Blueberry-Ginger or Original sauce into the crockpot and stir.   Then throw everything together in the crock pot. Top off with stock and let cook for 8 – 10 hours.  
Pull out meat and slice or shred.  Serve meat and veggies over boiled or steamed potatoes, rice, or egg noodles.   The photo attached is of just the pork by itself, which makes an excellent leftover sandwhich!!
Read more →
---
---