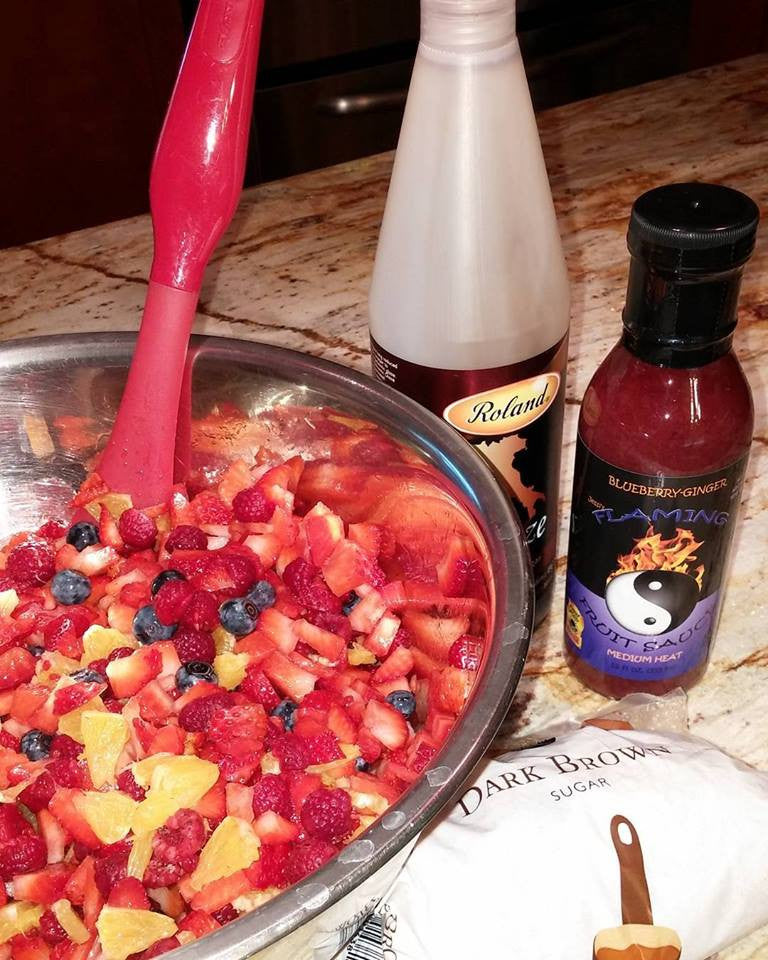 1 pint Strawberries
1 pint Blueberries
1/2 pint Rasberries
1/2 pint Blackberries
1/2 Cup Jessi's Flaming Fruit Sauce Blueberry-Ginger
1 Tbs Balsamic Vinegar
1 Tbs Brown Sugar
Wash and dry berries (also include diced orange or pineapple if desired). Cut strawberries and blackberries into small pieces.  I like to dice some apple into it on occasion, for crunch.  Mix Jessi's Flaming Fruit Sauce, brown sugar and vinegar and pour over fruit salad.   Let sit in fridge at least 1 hour.
 Spoon berry salad over french toast, pancakes or waffles for breakfast, or simply serve with some cream on top.  For dessert serve over angel food cake with whipped cream on top!!  
Read more →
---
1 lb thick cut bacon
4 Tbs Jessi's Flaming Fruit Sauce Apricot (or Mango-Pineapple, or Blueberry-Ginger)
Cover a baking sheet pan with foil.  Lay out bacon on the pan (will probably need 2), just slightly apart, so they do not touch.  Bake at 350 until cooked, about 30 minutes. 
Lay out bacon on paper towel and drain grease off of pan.  Place pieces of bacon back onto sheet pan, flipped so that the flat side is up.  Brush with the sauce and place under broiler for 1 to 2 minutes, just until the sauce begins to caramelize.
Let cool for 5 minutes.  Serve and enjoy the bliss.  ;-)
Read more →
---
---