Recipes / Jessi's Flaming Fruit Sauce Original 'Everything' Sauce - FULL 12 oz size!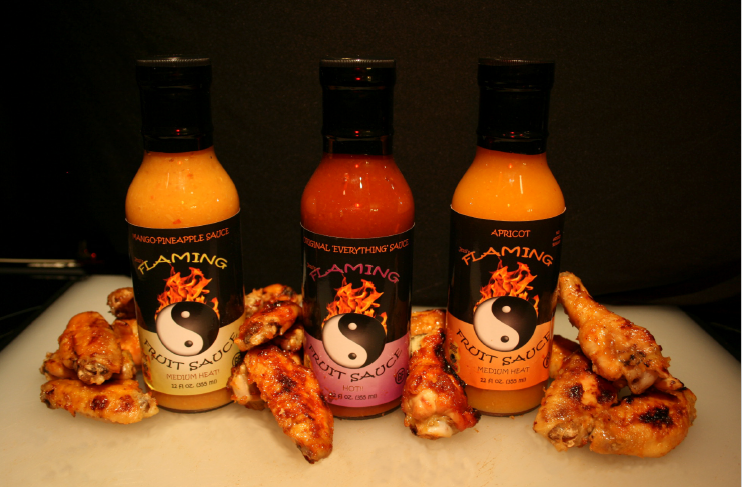 2 to 3 lbs of Chicken Wings
Jessi's Flaming Fruit Sauce in Original, Mango-Pineapple, or Apricot
Feel free to fry or grill your wings.  I bake them off at 375 for 30 – 45 minutes (depending on whether or not they start frozen).  Temp them to 165 internal to be sure they are cooked. 
My trick is that I bake them skin side down on either a silicone mat or non-stick foil.  After they are fully cooked (but not yet crisp), I drain off the liquid and flip them skin side up.  Now just broil them for about 4 or 5 minutes, until they are crispy. 
Glaze them with your favorite flavor of Jessi's Flaming Fruit Sauce and put them back in the broiler for about 3 minutes, until they begin to brown.  
I prefer to serve them with a wasabi sour cream dip.  
Wasabi Sour Cream Dip
1 Pint Sour Cream
1 - 2 Tbs Wasabi powder or paste
1 Tbs Tamari or Soy Sauce
1 tsp Ginger Juice (optional)
1 - 2 Tbs Garlic Teryaki Sauce
1/2 tsp white pepper
Combine all ingredients in a small bowl and let sit at least an hour in the refrigerator.  Feel free to add more wasabi or Teryaki, to taste.  This is great for cooling off from the wings, or for dipping carrots and celery.  Enjoy!!!
Read more →
---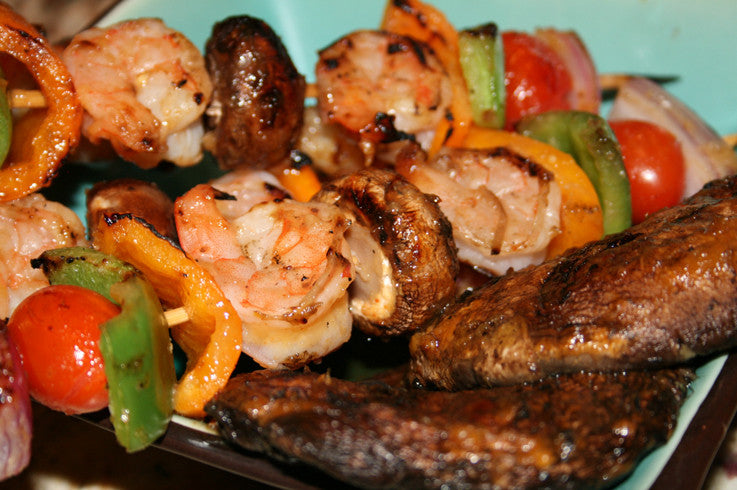 2 Lbs Shrimp, peeled & de-veined
1 small onion, large chop
1 pint button mushrooms
1 bell pepper, large chop
1 pint cherry tomatoes
4 Portabello mushroom caps, cleaned
1 Cup Jessi's Flaming Fruit Mango-Pineapple, Original or Apricot Sauce
Soak wooden skewers in water for 1/2 hour. Put together skewers, alternating vegetables and shrimp. Glaze with Jessi's Flaming Fruit Sauce. Grill 3 to 5 minutes on each side, until shrimp is no longer translucent. Can also use chicken cut into 1 inch cubes in place of shrimp.
Brush mushrooms with Sauce and grill, 3 to 4 minutes on each side.  Turn 90 degrees to get nice cross hatch marks on them before you flip them.
Read more →
---
---